MySQL Database and PHP enabled Web Site for £19.99 p.m.
For Only £19.99 per month get your own online database and website
As an easyGen user you are entitled to a special discounted hosting package which will allow you to build and run easyGen created web projects.
The Package includes a PHP enabled web site and a MySQL online database. You also get unlimited web space on both the web site and the MySQL database.
Our web sites come with a comprehensive site administration panel which allows you to manually access your database so you can remove unwanted tables, back up your database and add your own email accounts as well as view site statistics and password protect folders.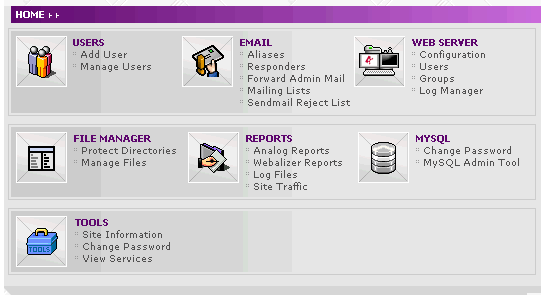 We have 2 hosting options, both are only £19.99 per month.
1. If you have your own domain name or would like to purchase a domain name to use for your new web site, please CLICK HERE
2. If you would like us to provide you with a FREE domain name which will look like www.yoursite.easygen2.com, Please CLICK HERE

There is a one off set up fee of £50.00 making your first month £69.99. Each month thereafter is only £19.99 with no hidden charges or further costs.
All sites are manually set up, help and instructions are issued by email when the site is created.All prices are subject to VAT for EEC members.
NOTE: you can cancel your hosting at any time, each month is paid for in advance. Hosting is on a month by month basis and payments made are non refundable either in part or in full.